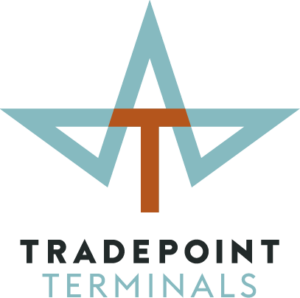 Tradepoint Terminals is a wholly-owned subsidiary of Tradepoint Atlantic, responsible for stevedoring and terminal operations at Tradepoint Atlantic's marine terminal. Tradepoint Terminals specializes in the expert handling of bulk, break-bulk cargoes, offering a full suite of services including vessel discharge and loading, customized storage solutions, material processing, foreign trade zone operations and inventory management at Tradepoint Atlantic's marine terminal within the Port of Baltimore. 
The creation and launch of Tradepoint Terminals is the next step forward in our efforts to provide supply chain-focused solutions at Tradepoint Atlantic. The combination of stevedoring and terminal services (Tradepoint Terminals) with our real estate development (Tradepoint Development) and short line rail (Tradepoint Rail) capabilities creates a unique platform to provide simple and comprehensive logistics solutions. 
As a proud and active member of the Port of Baltimore, Tradepoint Atlantic's marine terminal consists of six deep water multi-commodity berths and provides unparalleled access to rail and interstate highways. Now, our fully-integrated services offer a way for us to better serve our customers and help them more efficiently move their products from ship to storage, to rail, or to highway and back again. 
Access Channel ranging from 41′ to 36′
2,200 linear foot berth with 36′ of water
1,150 foot finger pier with 41′ of water
85 ton Gottwald shore mounted crane
Flexible vessel starting times
150 acre parcel
Two active vessel berths
Active barge berth
Graving dock (1200'x200'x28.5')
Water and electrical access
Capabilities And Services
Tradepoint Terminals provides full-service operations and logistics for all current and future customers that utilize Tradepoint Atlantic's bulk and breakbulk marine terminal. In addition to expanding connectivity to global supply chains, Tradepoint Terminals provides port service operations for the growing offshore wind industry and stores a broad diversity of commodities to include agricultural, construction, energy, and metals products.
Over 900 acres reserved for marine-associated activity
Development focused for multi-commodity capabilities
Economical transit buildings for covered storage
Ample laydown space for project cargo, bulk/break-bulk cargo, and auto ro-ro storage
2200 foot East/West berth in turning basin area with 36′ of water
1150 foot finger pier with 41′ of water
Separate barge berth area with 20′ of water
Reserved acreage for drop-log/transfer lot to non-TWIC drivers
Rail-serviced sites for transloading of dry and liquid bulk
Site plans maximize efficiency of traffic and cargo flows
Plans for East/West berth to be dredged to 40′ of water
Plans for finger pier to be dredged to 50′ of water
Access to existing 50′ main shipping channel
On-Site Services
Multiple scales on the property for fast service, and an experienced leadership team at Tradepoint Terminals, with over 100 years in the terminal operations business, is practiced in the efficient and expert handling of cargo to and from vessel, rail, and truck.
Interstate Movements
Unparalleled access to interstate highways with I-695 bisecting the property, and easy access to both I-95 for north/south movements and I-70 for movements going west
Deep Water Access
Multiple deep water berths and diversified skilled port operation capable of handling various cargoes and commodities including Bulk, Breakbulk, Ro/Ro, Project Cargo and Offshore Wind products.
Rail Connectivity
Class III onsite short line rail operation with dual Class I service from CSX and Norfolk Southern, connecting tenants and shippers easily to their markets.
Geographically positioned squarely in the middle of 16 planned offshore project lease areas, Tradepoint Atlantic is the premier location for offshore wind on the U.S. East Coast and provides logistical advantages for the offshore wind sector that no other facility can offer.  Download the Offshore Wind PDF.
QUAYSIDE OPERATIONS & BERTH
Uniform heavy lift capability for component staging and crane operations
Installation of a roll-on/roll-off berth for heavy transfer vessels or barge operations
Efficient access to adjacent lay-down areas
Equipment improvements including lighting, bollards, cleats and more
DRY DOCK & LAY-DOWN AREA
365m x 60m x 9m dry dock (1,200′ X 200′ X 30′)
Manufacturing or fabrication facilitated inside or adjacent to the dock
Ability to flood the dock in segments for efficient barge load out
Two 200-ton Clyde cranes travel the length of the dock
Heavy utility service available
Email / Phone
For general inquiries, questions, or comments, please email [email protected]
Phone: (410) 709-1299