Project Overview
Tradepoint Atlantic is positioned to be North America's premier industrial gateway driving the flow of commerce between the US and global markets through unmatched access to land, rail and sea.
Tradepoint Development
3,100 acres and a virtual blank slate provide extraordinary opportunities to create one of the most efficient, state-of-the-art logistics parks in the country. With the ability to deliver build-to-suit or raw land for development, Tradepoint Development provides in-house planning, engineering, design and development services to build out 15 million square feet of vertical development on site.
Part of the Tradepoint family of companies
Development Overview
3,100 acres centrally located on the East Coast of the US in the Port of Baltimore
Immediate access to interstate and regional road networks (95, 695, 895/Harbor Tunnel Thruway, 295/Baltimore-Washington Parkway), as well as Interstates 70 and 83
Significant deep water frontage with channel depths ranging from 36'-42' with plans to deepen to 40'-50'
Functional 1,020' pier to handle bulk commodities with a current depth of 42'
Fully-operational, privately owned and operated short-line railroad with over 100 miles of track and connections to two Class I railroads: CSX and Norfolk Southern
Significant natural gas (over 1000 psi) and electric service (multiple 115 and 34.5 kV circuits) servicing the property
Several large diameter water mains including a 48" line and multiple 36" and 16" lines creating reliable flow and pressure throughout the property's loop system and network of mains
Property incentives in place, including Enterprise Zone Status and Foreign Trade Zone Status
Agreements in place with federal, state and local regulators for approvals related to all remediation required under the Maryland Department of Environment Consent Order and EPA Prospective Purchaser Agreement
Tradepoint Marine
Tradepoint Marine, a proud and active member of the Port of Baltimore, provides deep water access to a 2,200' liner foot berth and 1,020-foot finger pier, both currently available, functional, and ready to facilitate the flow of water-born commerce.
Part of the Tradepoint family of companies
Marine Services and Development
Over 900 acres reserved for marine-associated activity
Development focused for multi-commodity capabilities
Design features to include:
Economical transit buildings for covered storage
Ample laydown space for project cargo, bulk / break-bulk cargo, and auto ro-ro storage
Reserved acreage for drop-lot / transfer lot for non-TWIC drivers
Rail-serviced sites for transloading of dry and liquid bulk
Site plans maximize efficiency of traffic and cargo flows
Automobile Roll-on / Roll-Off Facility
Tradepoint Atlantic recently developed a fully functional 21 acre lot for Pasha Automotive Services and their roll-on/roll-off  operation of imported automobiles.   Pasha Automotive Services is a subsidiary of The Pasha Group, a global logistics and transportation company. 
This new facility is uniquely positioned in the Port of Baltimore's well established auto/ ro-ro industry and is connected to rail service provided by both CSX and Norfolk Southern.  Additional storage capacity plans range from 150-200 acres.  A sample rendering of our proposed plans for a terminal on the east side of Coke Point is shown below.
Tradepoint Rail
Tradepoint Atlantic features a short-line railroad with 100 miles of track servicing the property, one of the largest privately-owned interchange yards on the East Coast, and access to two Class I railroads: CSX and Norfolk Southern.
Part of the Tradepoint family of companies
Owned And Operated Rail Capabilities
Largest privately-owned rail yard on the East Coast with both CSX and Norfolk Southern access
Short-line railroad with 100 miles of rail on property
Short-line has the flexibility to serve multiple on-site operations
Multiple yards throughout the property to handle various business needs
Currently investing in rail infrastructure improvements to increase capacity
Fully operational locomotive shop capable of heavy and minor locomotive repairs
Tradepoint Rail Information
Rail Tariff
Tradepoint Rail is served by CSX and Norfolk Southern. The 100-mile line services customers located at and adjacent to Tradepoint Atlantic
Email Us
To request a rail rate, check storage availability or inquire about our value-added services, please contact Tradepoint Rail sales at [email protected]
For general inquiries, location and routing information, questions or comments, please email [email protected]
Contact Us
The site has storage capacity and room for businesses looking to relocate. Contact us today!
Phone: 410-709-1301
Fax: 443-408-1999
Incentives
Tradepoint Atlantic works closely with the State of Maryland and Baltimore County to offer competitive, custom-tailored incentive packages for companies looking to locate and or expand in Maryland.
MD state sales & use tax exemption of 6% on construction materials, warehousing and manufacturing equipment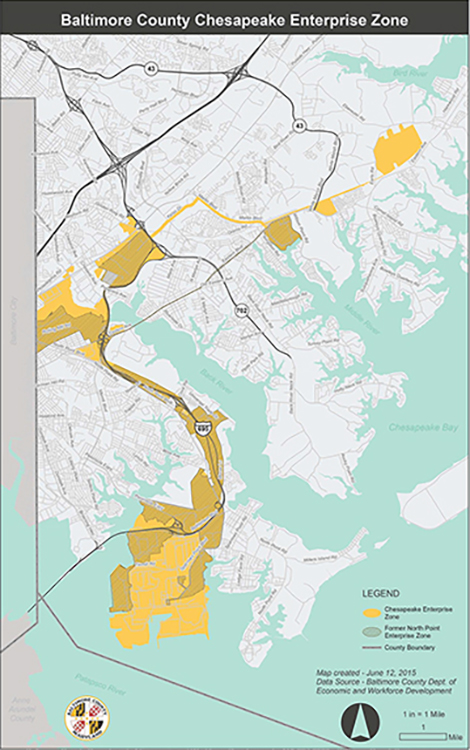 Expanded to encompass all of Tradepoint Atlantic, creating eligibility for employers to receive real property and income tax credits.
75% discount on new service extension
25% discount on electric and natural gas distribution and demand charges for 5 years
One of the largest and most active FTZ in the U.S.; ranked world's 4th best port related FTZ by FDI Magazine
Includes entire TPA Site
Allows delayed or reduced duty payments on foreign merchandise
Active FTZ users can store, assemble, repackage or manufacture foreign and domestic merchandise
TPA's approved Alternative Site Framework (ASF) allows a company to quickly complete the activation process and locate their business
TPA is engaged with the Maryland Department of Commerce and Baltimore County to identify additional economic incentives for businesses locating at Tradepoint Atlantic.
TPA Environmental Process
After 100+ years of steelmaking on site, Bethlehem Steel signed a consent decree with EPA and MDE in 1997
The consent decree maintained status quo, but did not lead to cleanup
In 2014, Tradepoint Atlantic signed agreements with EPA and MDE to enter the Maryland Voluntary Cleanup Program, and provided $48 million to secure completion of work
Established a dedicated team to monitor and manage the environmental cleanup process
Phase II investigations are underway
Investigation results will drive development of response action plans (RAPs), which are subject to public comment
Successful completion of RAP will lead to issuance of "no further action" letters from MDE, which will confirm that TPA and its tenants have no liability for legacy environmental conditions